Chicken soup with egg-lemon cream
Cooking time

1 hour 10 minutes

Prep time

20 minutes

Servings

5 portions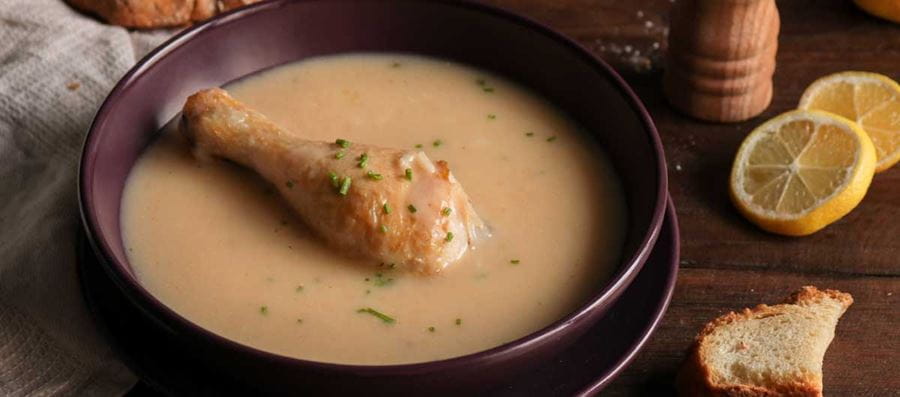 Ingredients
INGREDIENTS
1 large chicken, cut into portions
200 g short-grain rice
2000 ml water
1 onion
60 ml Altis Kalamata P.D.O. Extra Virgin Olive Oil
Freshly ground white pepper
Salt
For the egg-lemon cream
1 Tbsp cornflour
500 g hot broth from the soup
20 ml Altis Kalamata P.D.O. Extra Virgin Olive Oil
2 egg yolks
2 lemons
Freshly ground white pepper
Salt
Instructions
EXECUTION
Bring the chicken, onion and water to the boil, add salt, pepper and olive oil, and simmer for 45 minutes.
Remove the chicken and pass the broth through a sieve.
Set aside 500 ml broth for the egg-lemon cream and return the rest to the saucepan. Bring it to the boil, add the rice, cook for 20 minutes and remove from the heat.
Prepare the egg-lemon cream.
In a small saucepan, lightly whisk the egg yolks, add the cornflour, the cold broth and whisk well.
Add some salt and pepper and 2 cups of hot liquid from the chicken soup.
Simmer over a low heat, stirring constantly, until the sauce has thickened.
Remove from the heat, add the lemon juice and olive oil. Pour the egg-lemon cream into the soup and stir well.
Finally, grill the chicken until golden and serve with the soup.