Kid with yoghurt and fennel in the oven
Cooking time

2 hour 30 minutes

Prep time

8 hour

Servings

4 portions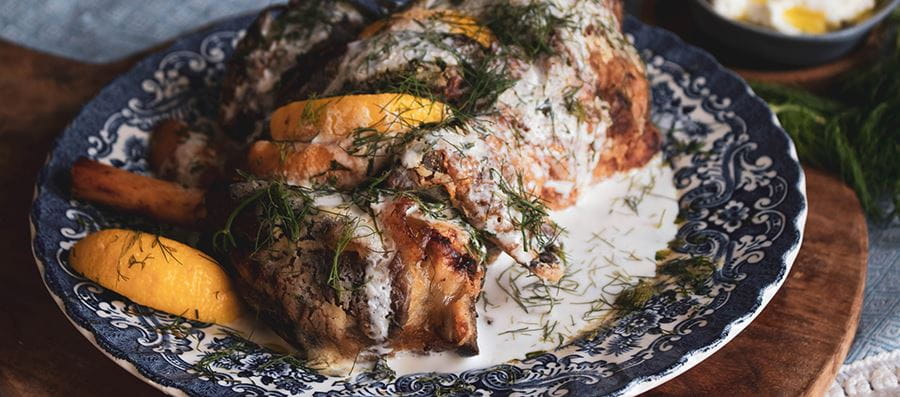 Ingredients
INGREDIENTS
2000 gr. kid (a whole front or back leg)
1000 gr. strained yoghurt, full-fat
6-8 garlic cloves
3 tablespoons fennel
Juice from 2 lemons
150 ml Altis Traditional Extra Virgin Olive Oil
Freshly ground pepper
Salt
Instructions
EXECUTION
On the night before, we salt and pepper the kid and keep it in the fridge.
On the following day, we preheat the oven at 180ο C.
With a knife, we open deep holes in the meat and place garlic cloves inside; we pout 100 ml. of the olive oil over the meat.
We moist a sheet of baking paper with water, use it to cover the kid and cook it in the oven for approx. 2 hours at 170ο C.
We remove the juices from the baking pan, pass them through a sieve and mix them with the yoghurt, lemon juice, 100 ml water, the remaining olive oil and the fennel.
We pour the sauce over the kid and cook for another 30 minutes.
We serve the kid with the minced fennel and the sauce.
We can replace the fennel with dill