Lamb with courgettes
Cooking time

1 hour 40 minutes

Prep time

15 minutes

Servings

4 portions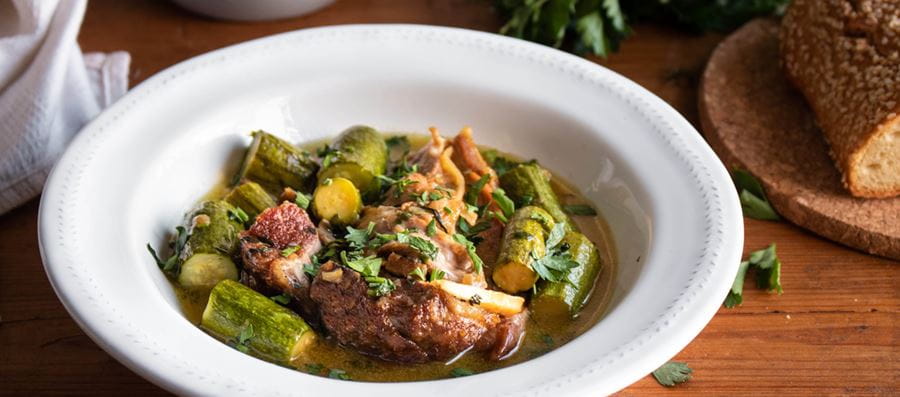 Ingredients
INGREDIENTS
1200 g suckling lamb (suitable for cooking in a saucepan) cut into pieces
1000 g courgettes
1 large onion
1 small bunch parsley
50 ml white wine
300 ml hot meat stock
2 large eggs
2 lemons
2-3 allspice berries
¼ tsp oregano
1 tsp cornflour
100 ml Altis Kalamata P.D.O. Extra Virgin Olive Oil
Freshly ground pepper
Salt
Instructions
EXECUTION
Heat 30 ml olive oil in a large frying pan and brown the meat on all sides.
Heat 30 ml olive oil in a large saucepan and sauté the onion and garlic. Add the meat and then the wine.
Add the allspice, oregano and stock. Season with salt and pepper and simmer for 1 hour and 15 minutes.
Cut the courgettes down the middle, sauté in the remaining olive oil and add to the saucepan.
Add the parsley (finely chopped) and give the pan a shake. Add more liquid if necessary – the food should remain in about a cupful of liquid.
Simmer gently until the courgettes are tender (about 20-25 minutes).
Take a cupful of liquid from the food to prepare the egg-lemon sauce.
Beat the eggs in a bowl, add the cornflower, the liquid from the food, and the lemon juice.
Pour the sauce over the food and mix by giving the pan a shake before serving.
- You can also make this dish with chicken.