Marinated Christmas hock of ham
Cooking time

3 minutes

Prep time

6 minutes

Servings

4 portions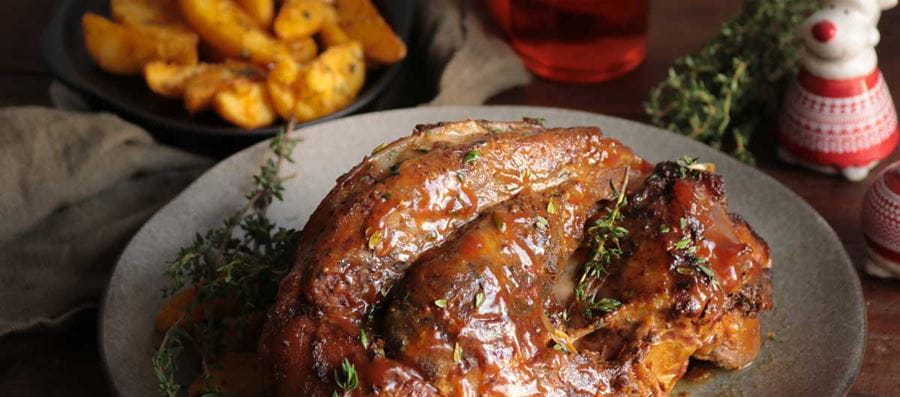 Ingredients
INGREDIENTS
For the marinade
50 g coarse salt
80 g brown sugar
2 oranges, quartered
1 onion, quartered
2 bay leaves
5-6 allspice berries
2-3 cloves
To roast
250 ml cider
200 ml orange juice
2 onions, quartered
4 cloves garlic
1 Tbsp honey
1 Tbsp paprika
1 Tbsp mustard
½ tsp peppercorns
½ tsp ground coriander
¼ tsp thyme
30 ml soy sauce
40 ml olive oil
Instructions
EXECUTION
Marinating
Bring 1.5 litres of water to the boil, allow to cool , and add all the ingredients for the marinade and the ham hock. Marinade for 6 hours in the fridge.
Roasting
Crack all the spices with a pestle and mortar, mix them into the honey, mustard and soy sauce, and spread the mixture over the ham hock.
Pour the cider and orange juice into a casserole dish, add the onions, olive oil, garlic and ham hock, and cook in a preheated oven for 3 hours at 170°C.
Puree the onions in the cooking juices and serve as a sauce with the ham hock.
If you don't have cider, you can use stout or lager.