Aubergines stuffed with cheese
Cooking time

20 minutes

Prep time

50 minutes

Servings

4 portions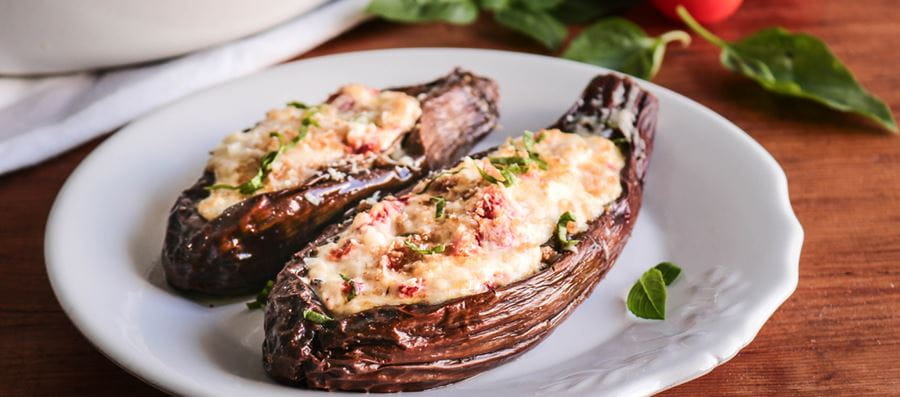 Ingredients
INGREDIENTS
8 long thin aubergines
300 g feta cheese
150 g graviera
200 g yoghurt
2 roasted red peppers from a jar
2 cloves garlic
3 Tbsp fresh basil
60 ml Altis P.G.I. Chania Kritis Extra Virgin Olive Oil
1 Tbsp dried breadcrumbs
½ tsp red pepper flakes
Pepper
Salt
Instructions
EXECUTION
Preheat the oven to 200°C.
With a knife, score two or three parallel lines along the top of the aubergines and place them in a baking tin. Drizzle with half the olive oil and bake for about 35-40 minutes.
In a bowl, combine the yoghurt with the graviera (grated) and the feta (crumbled). Add the red pepper flakes, garlic (crushed), the peppers (chopped) and the basil (finely chopped). Add the remaining olive oil and season with salt and pepper.
Remove the aubergines from the oven. Press down on them with a fork so pockets open where you have scored, and stuff them with the filling.
Sprinkle with dried breadcrumbs and bake at 200°C for 20 minutes.
You can use any kind of aubergine