Boureki from Chania
Cooking time

1 hour

Prep time

40 minutes

Servings

4 portions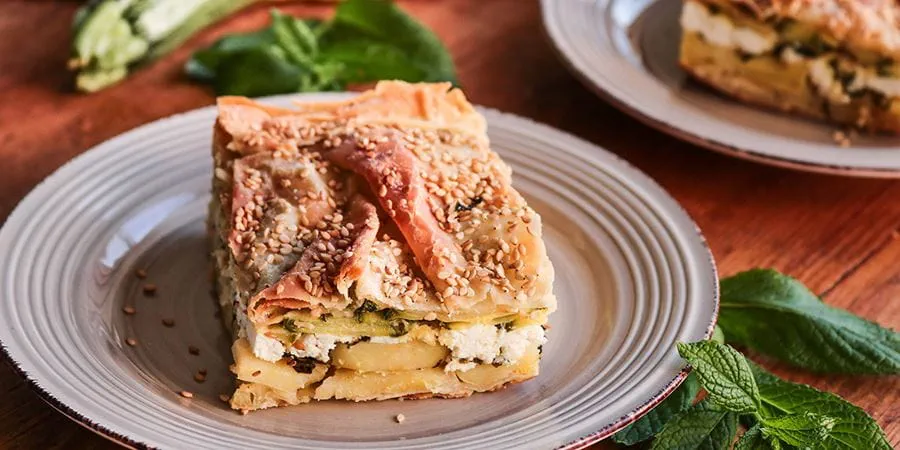 Ingredients
INGREDIENTS
1 pack country-style filo pastry
40 ml Altis P.G.I. Chania Kritis Extra Virgin Olive Oil
Sesame seeds
For the filling
1000 g potatoes
800 g courgettes
3 eggs
200 g yoghurt
100 ml milk
500 g anthotiro soft white cheese
250 g graviera cheese
1 small bunch spearmint
30 ml Altis P.G.I. Chania Kritis Extra Virgin Olive Oil
Freshly ground pepper
Salt
Instructions
EXECUTION
Cut the courgettes and potatoes into very thin slices. Finely chop the spearmint.
Grease a large baking tin and lay half the sheets of filo in the bottom, brushing each of them with oil.
Sprinkle the sliced potatoes and courgettes with salt.
Lay the slices of potatoes evenly over the filo and sprinkle with half the graviera and half the spearmint.
Spread the anthotiro on top and then arrange the courgettes in a layer. Sprinkle with the remaining spearmint and graviera.
In a bowl, whisk together the eggs, yoghurt and milk. Season with salt and pepper.
Pour the mixture over the courgettes and lay the remaining sheets of filo on top, each brushed with oil.
Brush the surface with olive oil and sprinkle with sesame seeds.
Preheat the oven to 180°C and cook on the lowest shelf for 50-60 minutes.
- You can also use puff pastry - You can add dill as well as spearmint