Minced meat pie with leeks
Cooking time

50 minutes

Prep time

30 minutes

Servings

12 portions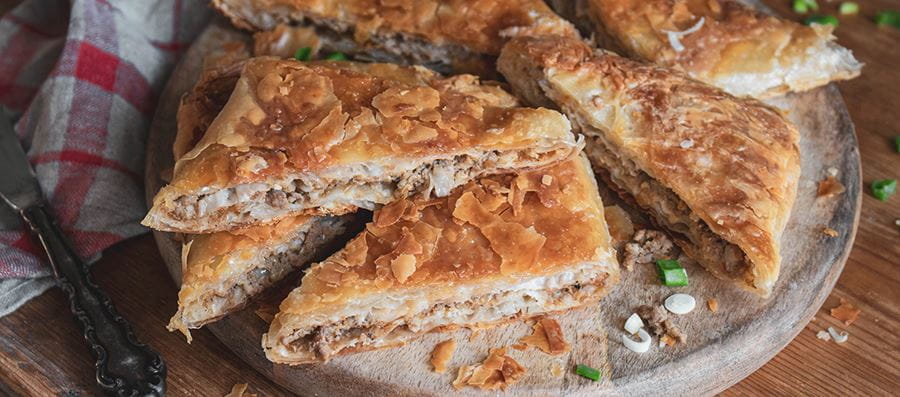 Ingredients
INGREDIENTS
1 country-style "filo" (layer) dough
80 ml Altis Kalamata Extra Virgin Oil
For the filling
600 gr. pork or lamb minced meat
5 leeks, minced
1 onion
80 ml Altis Kalamata Extra Virgin Oil
100 ml. meat broth
½ teaspoon cinnamon
½ teaspoon allspice
½ teaspoon nutmeg
1 teaspoon sweet red pepper
Salt
Instructions
EXECUTION
In a wide frying pan, we saute the leeks with half the olive oil for 10΄.
In a saucepan, we heat the remaining olive oil and add the minced meat and onion.
We saute them over high heat, constantly mixing, until the minced meat turns brown; we add the spices, leeks, broth, salt and pepper.
We cook the minced meat until it absorbs its liquids and we leave it aside to cool.
We preheat the oven at 200ο C.
We smear a baking pan with olive oil, we spread two dough layers on the pan and oil them well; we add some minced meat and continue to alternate dough layers and minced meat.
We close the minced meat pie with two dough layers which we "tuck" underneath.
We smear the minced pie surface with olive oil, sprinkle it with a little water and bake it at the lowest oven rack for 50΄.
- We can add yellow or hard grated cheeses, such as kaseri, gouda or graviera, to the minced meat pie