Chickpea Balls with Tomato Sauce
Cooking time

30 minutes

Prep time

40 minutes

Servings

4 portions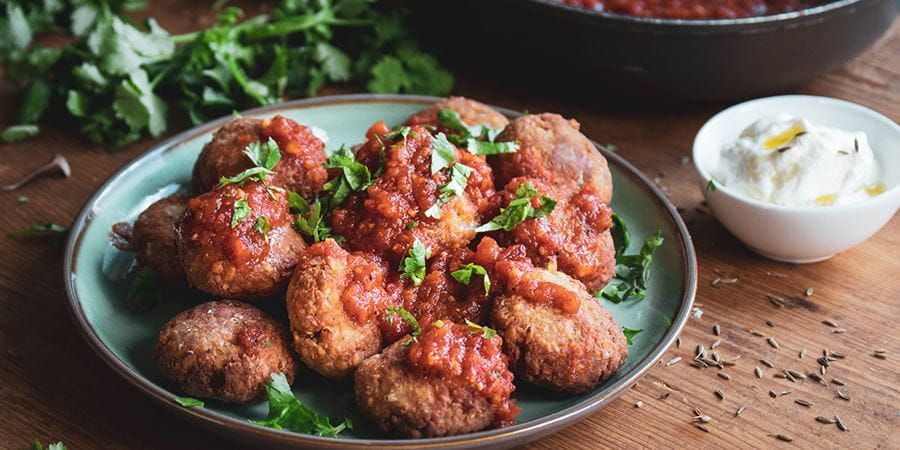 Ingredients
For the chickpea balls
250 gr. chickpeas, soaked
2 onions
2 garlic cloves
100 gr. stale bread crumbs
½ teaspoon cumin
1 teaspoon dry mint
1 tablespoon Altis Crete Chania Extra Virgin Olive Oil
Pepper
Salt
For frying, we will also need
200 ml. Altis Classic Olive Oil
4 tablespoons flour
For the sauce
300 gr. tomatoes
1 tablespoon concentrated tomato juice
1 garlic clove
30 ml Altis Crete Chania Extra Virgin Olive Oil
½ teaspoon cumin
½ teaspoon hot red pepper
1 small cinnamon stick
Salt
Instructions
EXECUTION
In the multi blender, we mince the chickpeas but not to the point of a pulp, and place them in a bowl.
We mince the onions and garlic, and we add them to the mix together with the cumin, parsley, salt and pepper.
We add the bread, moist and well pressed, and 1 tablespoon olive oil.
We stir well and form the balls; we powder them with the flour and fry them in the hot olive oil.
For the sauce
We grate the tomatoes in the grater, we mix well all the sauce ingredients in a small saucepan, and we boil the sauce until it thickens.
We serve the chickpea balls in a serving plate, pour the sauce over them, and sprinkle them with minced parsley or coriander.
- We do not boil the chickpeas at all - The hot pepper is optional