Messinia codfish tsiladia
Cooking time

1 hour

Prep time

20 minutes

Servings

5 portions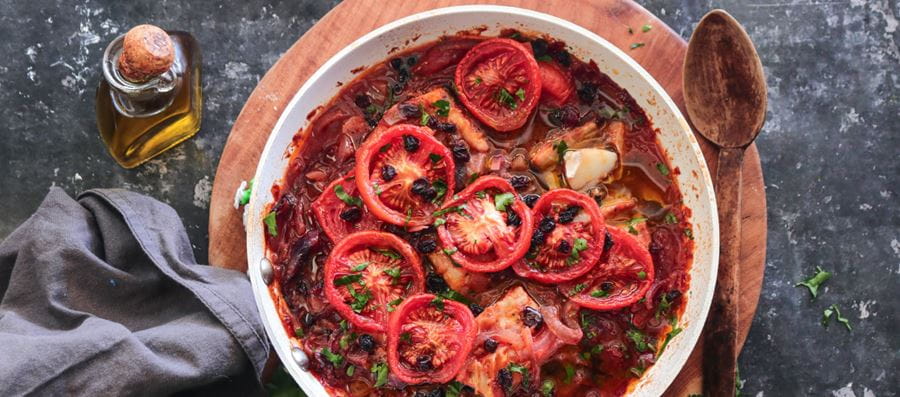 Ingredients
INGREDIENTS
1500 gr. salted codfish (desalinated)
5 onions, sliced
3 garlic cloves, sliced
700 gr. tomatoes, cut in thick slices
250 ml. tomato juice
1 teaspoon sugar
100 gr. Black currants
2 laurel leaves
1-2 oregano sprigs
150 ml. Altis Kalamata Extra Virgin Olive Oil
Freshly ground pepper
Coarse salt
Instructions
EXECUTION
In a big, deep saucepan, we saute the onions and garlic in half of the olive oil for 5 min.; we turn down the heat, and add the sugar, tomatoes, laurel leaves, thyme, salt, pepper and, finally, the tomato juice.
We boil the mix over medium heat for 5 min., remove it from the heat and add the black currants.
We preheat the oven at 180ο C and cut the tomatoes in thick slices.
In a big baking pan, we spread half the tomato slices, then the codfish and the remaining tomato slices on top; we pour the sauce and the remaining olive oil over the mix.
We bake the codfish at 180o C for approx. 1 hour. The Tsiladia is served hot or cold.
We can also use fresh codfish or some similar fish We do not need to add water to the recipe, because the tomatoes will release their liquids