Stuffed squids with rice and fennel root
Cooking time

35 minutes

Prep time

30 minutes

Servings

4 portions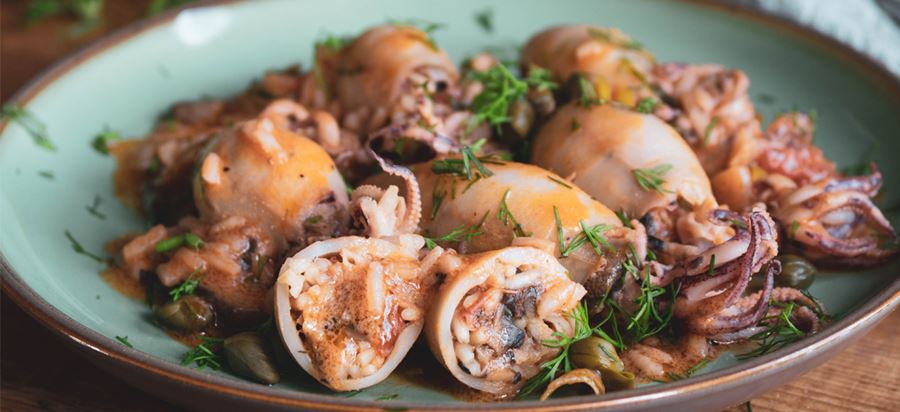 Ingredients
INGREDIENTS
1000 gr. squids, cleaned
200 gr. fennel root, minced
2 leeks, minced
2 scallions, minced
½ bunch of parsley, minced
2 tablespoons dill, minced
1 tablespoon capers
1 tablespoon concentrated tomato juice
2 tomatoes, minced
100 gr. rice
120 ml. Altis Traditional Extra Virgin Olive Oil
150 ml. white wine
Freshly ground pepper
Salt
Instructions
EXECUTION
In a deep frying pan, we saute the fennel root, leek, scallions and parsley in 2-3 tablespoons olive oil.
When they become soft, we add the rice, tomatoes, salt and pepper.
We let the mix cool down and we stuff the squids with a teaspoon; then, we place them side by side, in a wide saucepan.
We melt the concentrated tomato juice in the wine and we pour it over the squids.
We place the saucepan over medium heat and bring the squids to a boil; then, we add the olive oil, dill, salt and pepper, and we cook the squids for 35΄.
We serve the squids hot or cold with lemon.
- We can also use cuttlefish instead of squids