Octopus balls
Cooking time

45 minutes

Prep time

1 hour 30 minutes

Servings

4 portions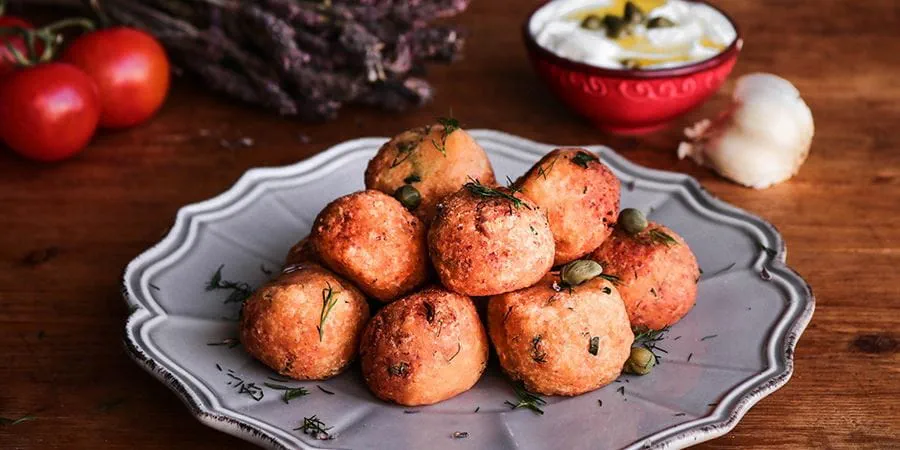 Ingredients
INGREDIENTS
500 g octopus
150 g stale bread
4 Tbsp dill
4 Tbsp parsley
1 onion
2 cloves garlic
1 tomato
1 sun-dried tomato
1 bay leaf
3 Tbsp vinegar
½ tsp savory of Crete
20 ml Altis Extra Virgin Olive Oil
Freshly ground pepper
Salt
To fry
100 g flour
Altis Classic Olive Oil
Instructions
EXECUTION
Simmer the octopus with the bay leaf and vinegar and as much water as necessary. As soon as the octopus is tender, remove the suckers and skin.
Finely chop the octopus, olive oil, sun-dried tomato, tomato (grated), garlic and onion in a food processor.
Transfer the mixture to a bowl. Add the parsley, dill and bread (soaked, with the crust cut off).
Finally, add the savory, season with salt and pepper, and knead together well. If necessary, add some bread or water so the mixture does not fall apart.
Refrigerate the mixture for 30 minutes. Form into balls, dust with flour, and fry in hot olive oil.
Serve with mayonnaise or skordalia.
- You can add capers or 2-3 anchovies to the octopus balls