Pastitsio with yoghurt topping
Cooking time

50 minutes

Prep time

1 hour

Servings

5 portions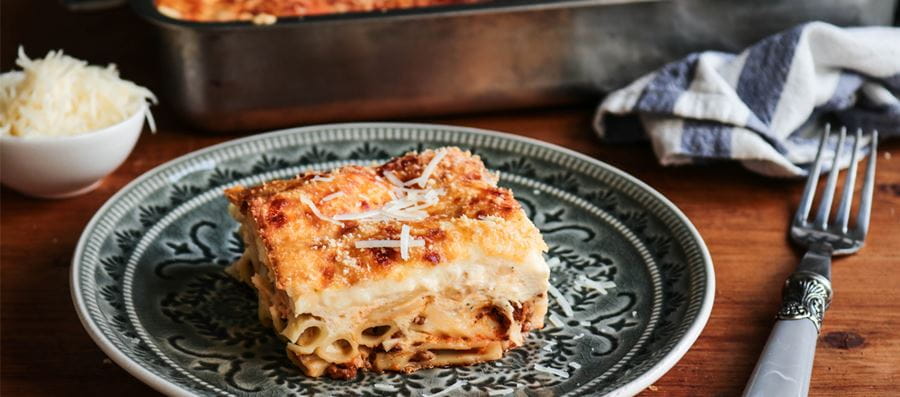 Ingredients
For the meat sauce
400 g minced beef
1 onion
2 cloves garlic
1 cinnamon stick
4 allspice berries
200 g tomato juice
500 g tomatoes
50 ml red wine
1 tsp sugar
40 ml Altis Classic Olive Oil
Freshly ground pepper
Salt
For the pasta
300 g pasta (rigatoni or penne)
20 g Altis Classic Olive Oil
For the yoghurt topping
1000 g strained yoghurt
5 eggs
1 Tbsp flour
½ tsp nutmeg
Freshly ground pepper
Salt
You will also need
200 g grated kefalotiri
2-3 Tbsp dried breadcrumbs
Instructions
EXECUTION
The yoghurt topping:
In a bowl, whisk together the eggs, yoghurt, nutmeg and flour. Season with salt and pepper.
Leave the mixture in the fridge while you make the meat sauce and the pasta.
The meat sauce:
Heat the olive oil over a high heat and brown the mince. Add the onion and the garlic and continue frying.
Add the wine and as soon as it has evaporated, add the spices, tomato purée, tomatoes (finely chopped) and sugar. Season with salt and pepper.
Simmer gently until the sauce has thickened. At the same time, boil the pasta in plenty of salted water. Drain and pour in the olive oil.
To assemble:
In an oven dish, mix the pasta with the meat sauce and half the kefalotiri.
Remove the yoghurt topping from the fridge, add the remaining kefalotiri and spread the topping over the pasta.
Sprinkle with dried breadcrumbs and bake at 180°C for about 40-45 minutes.
Allow the pastitsio to cool before serving.
- You can also make this using minced chicken instead of minced beef