"Plaki" (baked) giant beans
Cooking time

1 hour

Prep time

8 hour

Servings

4 portions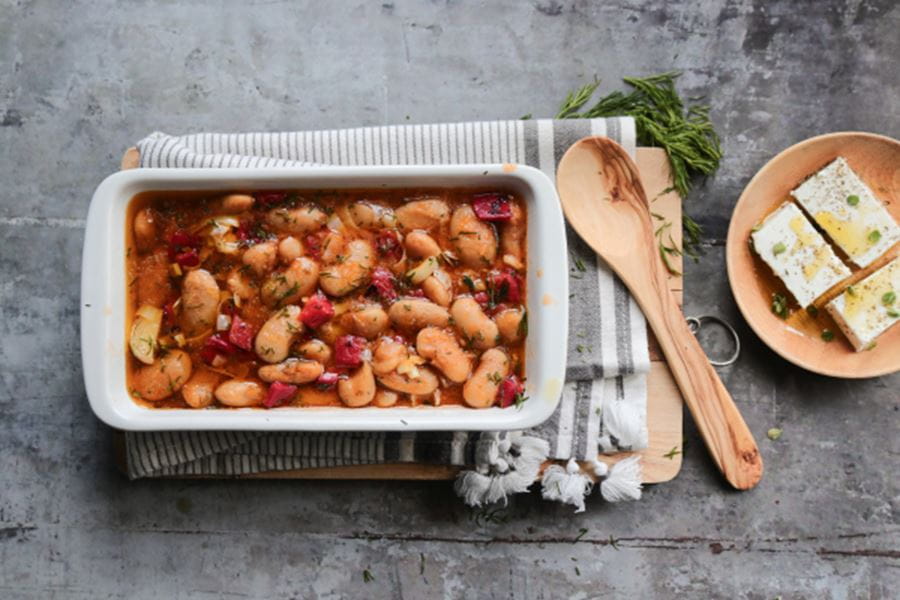 Ingredients
INGREDIENTS
500 gr. giant beans
1 onion, coarsely chopped
3 leeks, sliced
2 baked Florina peppers, sliced
1 bunch of dill, minced
200 ml. Altis Chania Crete Extra Virgin Olive Oil
1 teaspoon sugar
1 teaspoon concentrated tomato juice
1 laurel leaf
Freshly ground pepper
Salt
Paprika
Instructions
EXECUTION
We soak the giant beans in lukewarm water for 8 hours or overnight.
We boil the giant beans in plenty of water with the laurel leave and the onion, until they become mushy and soft; we add warm water if necessary.
After boiling the giant beans, we drain them and place them in a large baking pan.
We preheat the oven at 180°C and prepare the sauce.
We saute all the vegetables in a little olive oil for 5 min., and we add the concentrated tomato juice, peppers, sugar, salt and pepper. Finally, we pour the olive oil and 600 ml. water.
After bringing the sauce to a boil 2-3 times, we pour it over the beans and bake them at 180°C until the sauce becomes thick and the beans become mushy, for approx. 1 hour, and then we serve.
- We can add a little bukovo, if we want a spicy taste