Salad with green beans, tuna and eggs
Cooking time

45 minutes

Prep time

30 minutes

Servings

4 portions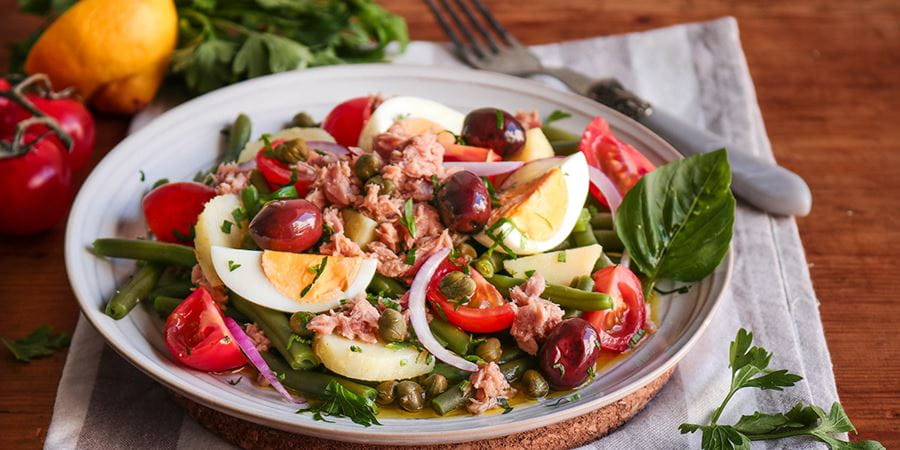 Ingredients
INGREDIENTS
300 g green beans
200 g tuna in water
250 g potatoes
3 eggs
5 cherry tomatoes
1 onion
1 clove garlic
4-5 olives
1 Tbsp capers
Freshly ground pepper
Salt
For the sauce
2 anchovies
30 ml Altis Kalamata P.D.O. Extra Virgin Olive Oil
1½ Tbsp white vinegar
Juice and zest of 1 lemon
6-7 basil leaves
3-4 sprigs parsley
Freshly ground pepper
Coarse salt
Instructions
EXECUTION
Boil the potatoes in salted water until tender, then peel.
Boil the beans until tender and transfer to a bowl of ice-cold water so they don't lose their colour.
Hard boil the eggs.
Prepare the sauce by finely chopping all the herbs and the anchovies and mixing them with the olive oil, vinegar and lemon juice. Season with salt and pepper.
In a bowl, cut the potatoes into medium-sized pieces, slice the onion into rings and halve the cherry tomatoes. Add the garlic (crushed) and the green beans. Season with salt and pepper.
Pour over the sauce and transfer to a salad bowl. Add the eggs, olives and capers with a little more olive oil, and serve.
- If you like, you can use borlotti beans instead of green beans