Shell pasta with chicken and aubergines
Cooking time

30 minutes

Prep time

15 minutes

Servings

4 portions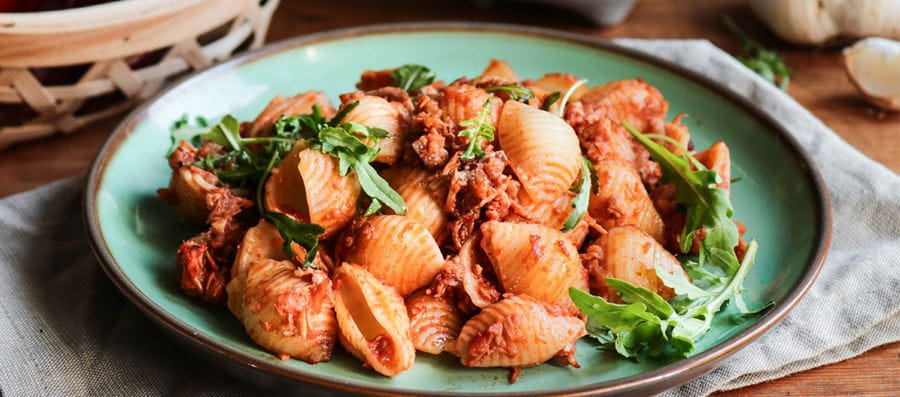 Ingredients
INGREDIENTS
500 g shell pasta
300 g chicken breast (boiled)
250 g aubergines
1 pepper
1 onion
1 clove garlic
250 g tomato juice
100 ml white wine
½ tsp thyme
½ tsp oregano
5-6 leaves fresh basil
40 ml Altis Kalamata P.D.O. Extra Virgin Olive Oil
Freshly ground pepper
Salt
Rocket (to serve)
Instructions
EXECUTION
Finely chop the aubergines in a food processor.
Finely chop the onion, garlic and pepper and shred the chicken.
Heat the olive oil in a saucepan and sauté the vegetables for 2-3 minutes. Add the chicken and continue cooking for another 2-3 minutes.
Add the wine and as soon as it has evaporated add the tomato juice, thyme and oregano. Season with salt and pepper and cook until the sauce has thickened.
Boil the pasta shells, pour over the sauce and add the basil.
Serve the pasta with some rocket and a few drops of olive oil on each plate.
- If you like, you can use roast chicken instead of boiled.