Sesame Pie for fasting (vegan)
Cooking time

1 hour 0 minutes

Prep time

20 minutes

Servings

4 portions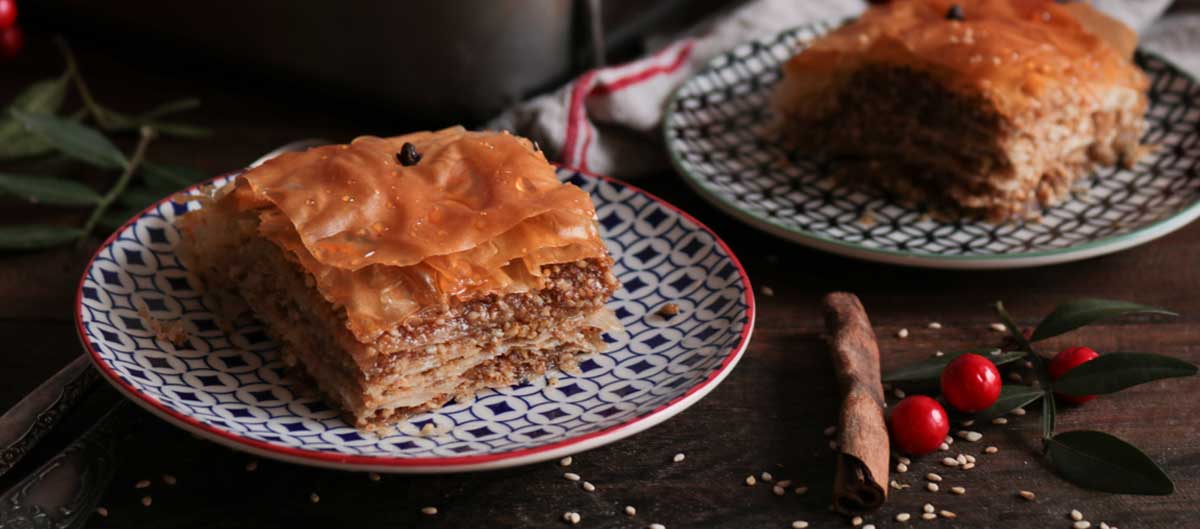 Ingredients
450 g filo pastry
150 g unhulled sesame seeds
50 g ground walnuts
80 g dried breadcrumbs
50 g sugar
1 tsp cinnamon
½ tsp ground cloves
150 ml Altis Classic Olive Oil
400 g sugar
300 ml water
1 cinnamon stick
1 lemon peel
| | |
| --- | --- |
| Energy (kcal) | 0 kcal |
| Energy (kJ) | 0 kJ |
| Protein (g) | 0.0 g |
| Carbohydrate incl. fibre (g) | 0.0 g |
| Carbohydrate excl. fibre (g) | 0.0 g |
| Sugar (g) | 0.0 g |
| Fibre (g) | 0.0 g |
| Fat (g) | 0.0 g |
| Saturated fat (g) | 0.0 g |
| Unsaturated fat (g) | 0.0 g |
| Monounsaturated fat (g) | 0.0 g |
| Polyunsaturated fat (g) | 0.0 g |
| Trans fat (g) | 0.0 g |
| Cholesterol (mg) | 0 mg |
| Sodium (mg) | 0 mg |
| Salt (g) | 0.00 g |
| Vitamin A (IU) | 0 IU |
| Vitamin C (mg) | 0.0 mg |
| Calcium (mg) | 0 mg |
| Iron (mg) | 0.00 mg |
| Potassium (mg) | 0 mg |
Instructions
Spread the sesame seeds on a baking sheet and roast for 10 minutes at 160°C.
Then, while they are still hot, grind them in a food processor. Transfer to a bowl and stir in the walnuts, breadcrumbs, sugar and spices to make the filling.
Lay three sheets of filo in a medium baking tray and sprinkle over some of the filling, continuing with alternate layers of filo and filling until you have three sheets of filo left to top the pie with.
Cut the pie into pieces with a sharp knife and stick a clove in each piece.
In a saucepan, heat the olive oil until it very hot and pour over the pie, making sure you cover the whole surface. Bake for 60 minutes at 170°C.
While the pie is baking, boil all the ingredients for the syrup for 5 minutes and pour it over the pie when it comes out of the oven.
Leave the pie for some hours so it can soak up the syrup, and serve.
You can also add honey to the syrup.